The Q-Band EX is one of the many fitness tracker that have come onto the market in recent years. I was given the opportunity to review the product by the company. After almost two weeks of usage, I think I have formed a pretty solid opinion about it. So if you are looking for firsthand experience about this product.
In full disclosure, I was given this product to review (along with the Q-Band HR). However, it does not affect my opinion of the product at all. And before the Q-Band EX, I have tried two other fitness watches so I do have something to compare to.
Features of the Q-Band EX
4 feature modes (daily, sleep mode, sports mode, and nap mode)
Paired with the i-gotU app
Tracks calories burned, distance traveled, steps taken
Ability to set vibrating/silent alarm
Able to track your sleep pattern
No heart rate monitor available (the heart rate monitor is available on the Q-Band HR)
For being how cheap it is, this thing is packed with features. All I really needed was a step tracker but so much more was included in the Q-Band EX.
Design and Build
The design of the watch is very simple and elegant. The watch is made so that you can switch the band inside out as camouflage may not suit everyone. The other side of the band is black. It does make me wonder why they decided to go with camouflage as their default. Not too many people like camouflage as their primary color. But yeah, if camo isn't your cup of tea, switch the band inside out to wear it black.
The screen is monochromatic. I am not sure if that is normal or not but the fitness bands I've owned were all monochromatic.
Here are some pictures of the Q-Band EX , along with the band next to another fitness band I own: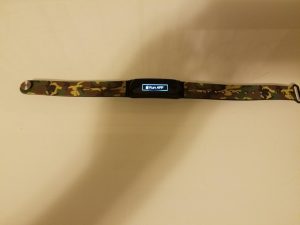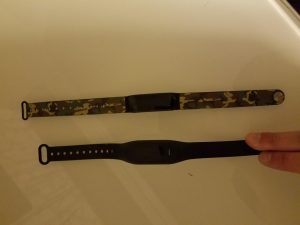 The watch overall is extremely lightweight, which makes it ideal for jogging or doing other high intensity activities, especially activities involving the arm. I really do forget that it is on my wrist sometimes.
One thing I really don't like about this watch is the way they design it to charge. It's very fussy. When I originally got the watch, I really didn't know if it was charging or not. And it turned out to not be charging. So if you connect it to the charger and you don't see the screen come on with a charging symbol, then it's not charging. In order to charge the Q-band EX, you have to align the charging port exactly with the metallic contact on the back of the watch. Here's a picture that shows you the charging port and how you are suppose to charge it: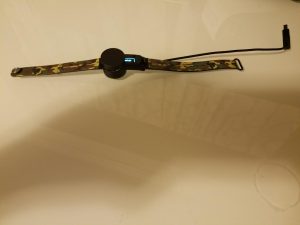 The charging port has a clasp that you close once the band is in the port. It uses a USB connection so you can connect it to your computer or a USB power adapter.
The battery life on this app is really solid. If you don't wear it all the time, it will last you more than 2 weeks without charging.
App and Setup
The fitness band is paired with the i-gotU Life app. The app is pretty intuitive and connects pretty easily to the watch. Be sure to fully charge the phone first and follow the instructions before connecting to the app. The instructions are extremely easy to follow and is only one page (front and back).
After connecting to the watch, it will have you enter in your information to give you more accurate statistics.
Here are some pictures I took of the app and what you will see when you download it: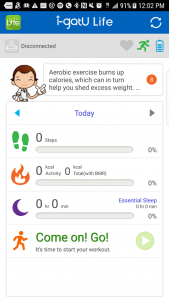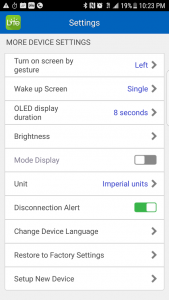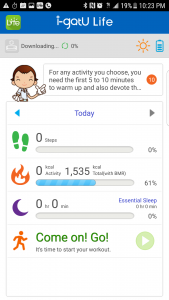 The app allows you to set daily calorie and step goals. The default step goal (for me at least) for me at least is 10,000 steps and 2,500 calories per day.
The app also has a pretty cool feature where it alerts you if you are being too sedentary by giving you a "low activity alert."
Here is one thing about the app though, it will want to be kept open and on the whole time. You do not need to keep it open and synced the whole time. It will kill your phone battery if you do that. Instead, just exit out of the app if it's open. Then just come back and sync your stats a few times a day. But if you do decide to keep it continuously synced, be sure to keep a charger nearby at all times.
Accuracy of Statistics
In terms of accuracy of steps, this watch is much more accurate than my other fitness bands. I wore this fitness band and one of the other cheaper ones and this one had almost less steps by the end of the day than my other watch.
In terms of calories burned, I didn't wear it too much when I did hard cardio because sparring doesn't allow you the leisure of being able to wear a fitness band. However, when counting calories from my walking alone, it is fairly accurate.
Conclusion
Overall, out of all the fitness bands I own, this one feels the best and is the most featured-packed out of them. And at its current price, it is a good buy. Overall, here is my summary of the pros and cons of the fitness band:
Pros
Lightweight design
Great battery life
Reversible wristband
Packed with features
Accurate measure of steps
Great buy at current price point
Silent vibrating alarm is ideal for naps
Cons
The charger is very fussy
The app is a battery drain
If you are interested in buying the Q-Band EX, click below:
[thrive_link color='blue' link='http://amzn.to/2pPdX6z' target='_blank' size='medium' align="]Buy Q-Band EX[/thrive_link]
Again, this product does not keep track of your heart rate. But the same company does make another fitness tracker that keeps track of your heart rate. If that is what you want, click below to buy the Q-Band HR:
[thrive_link color='blue' link='http://amzn.to/2pPdX6z' target='_blank' size='medium' align="]Q-Band HR[/thrive_link]