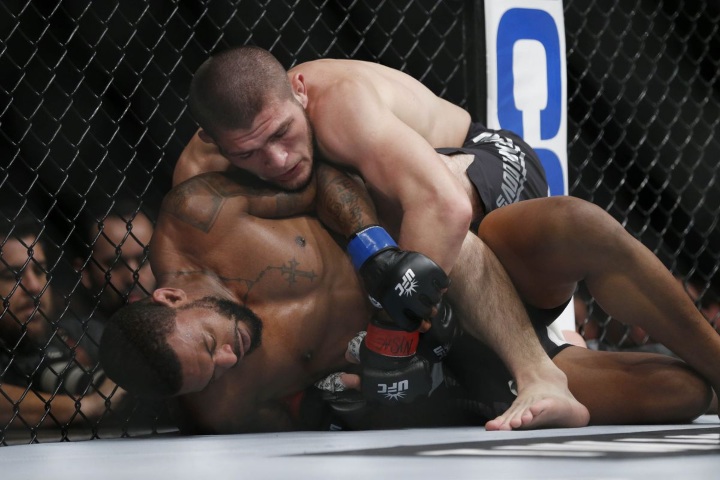 Khabib Nurmagomedov is one of the most dominating Mixed martial artists in the world today. He bolsters a perfect record of 29-0, his most notable wins being those against Edson Barboza, Rafael Dos Anjos, and the very famous Conor McGregor. Even elite-level wrestlers like Justin Gaethje are no match for Khabib's ground game. It's safe to say that Khabib's grappling is the best in all of MMA.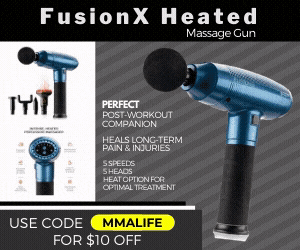 With a background in Wrestling and Sambo, he dominates opponents by grinding them to the ground and mauling them with his superior ground control. Khabib applies tremendous pressure when he is on top, especially when against the cage. 
There is one particular technique, called the Dagestani Handcuff, that Khabib uses to trap and finish off his opponents. This technique keeps himself out of harm's way while exposing the opponent to his devastating ground-and-pound. He uses this and variations of this technique whenever he goes to the ground to ensure his victories and keep his record clean of losses.
Today, MMA fighter and BJJ/wrestling coach Kam Atakuru breaks down the famous Dagestani Lock (or Handcuff) and how to use it efficiently—starting from how to set it up, what positions to set it up from, and how to properly finish the opponent.
Dagestani Handcuff by Kam Atakuru
Step-by-step Instructions:
The position starts out when your opponent turtles up and you have control and pressure on one side of his body.
(This guide is taught from a one side point of view, so if you want to learn it on the other side too, just change all the rights to left and vice versa.)
Step 1.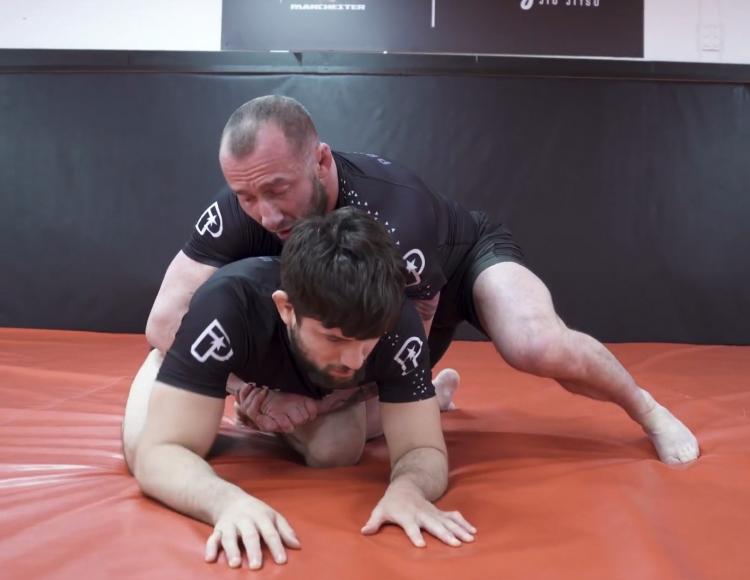 Instead of going for a seatbelt grip, you go for a body lock, keeping a firm gable grip. 
Note that we use the term firm and not "tight" because you want to give yourself some space to move around and ride it out just in case your opponent tries to power out.
Step 2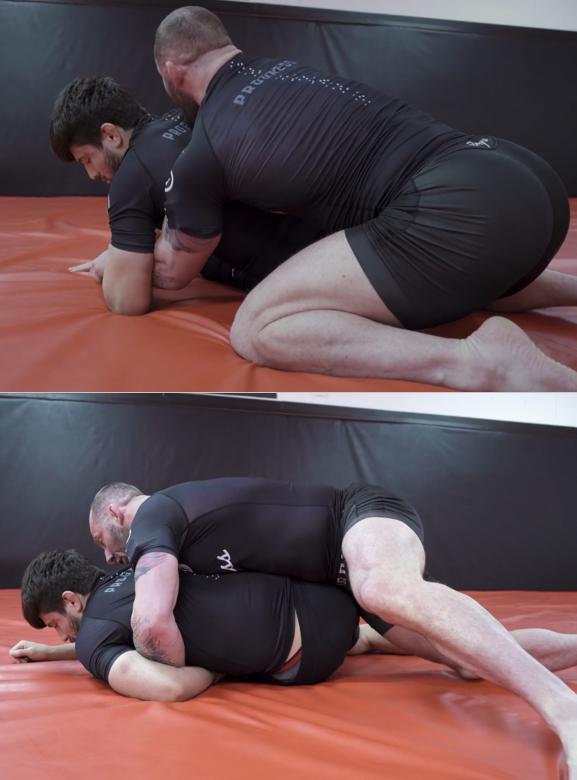 As soon as you hit the ground, you will grab his left wrist with your left hand. You will then pull his wrist in towards his belly while driving your weight forward simultaneously, thus destroying the base created with his elbow.
Step 3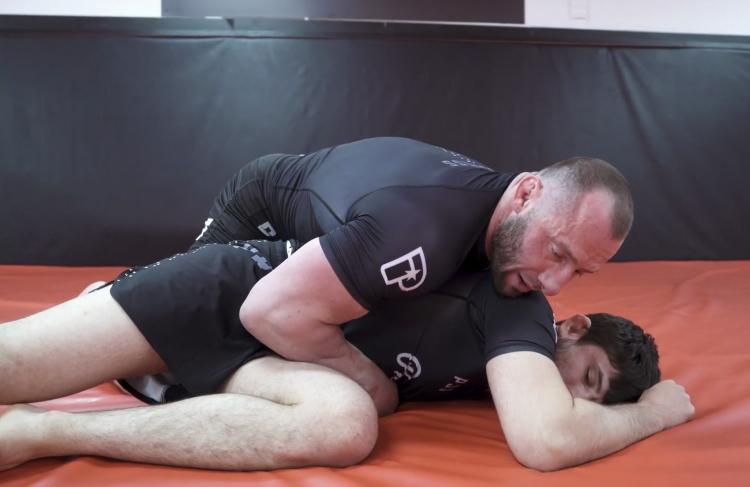 Once you have secured the left side, the next step is to focus on the opposite shoulder (right shoulder) and shift your weight and pressure to that area.
When you secure this position, your new objective is to start working towards the legs while maintaining the same-side wrist control grip you initiated the with.
Step 4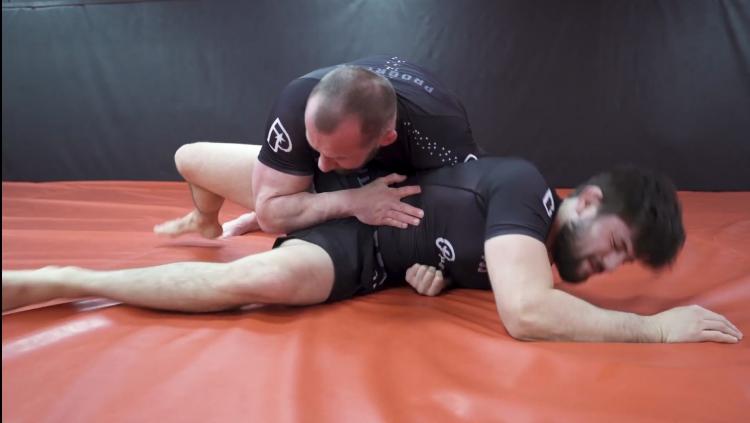 Move some pressure off the right shoulder and onto his lower torso. Use your right elbow to initiate a pushing movement towards the opponent's right leg to open up the hips and legs. Use your hand and forearm to secure the position as shown in the example above.
By now, It should feel like you have good control of his lower limbs as well as his upper body. Your opponent should not be able to get on his knees if you have executed everything correctly so far.
Step 5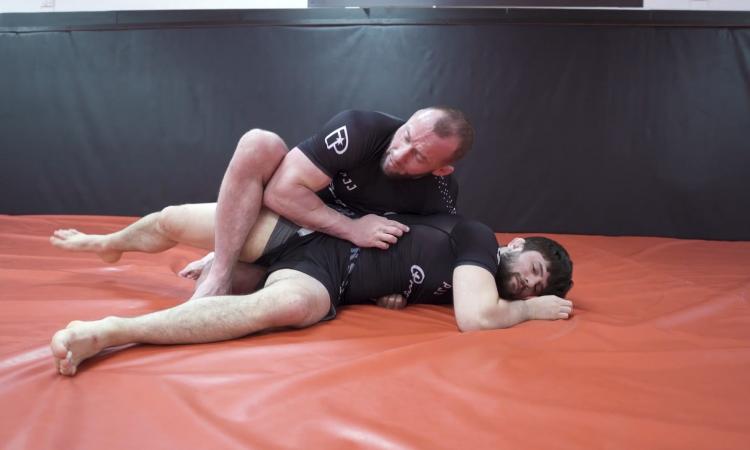 Now, step over your opponents exposed right leg with your own right leg, going for an S-mount over his Quadricep. 
Step 6.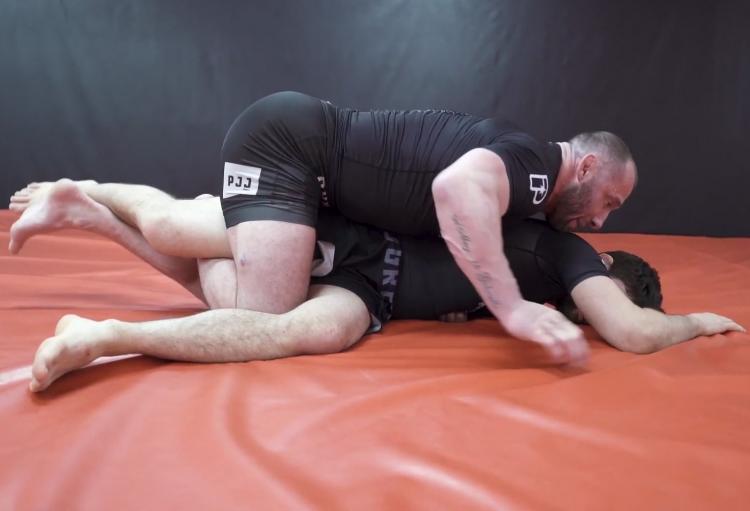 The final step is to drop your right knee to the ground after getting the S-mount, cross your triangle to secure the opponent's leg, and apply a lockdown with your left shoulder, putting pressure behind your opponent's right shoulder. 
From this position, you already have a plethora of techniques to dismantle your opponent. This ranges from armbars and shoulder locks, to just safely pounding on your opponent's face while they can't do anything to retaliate, Khabib-style.