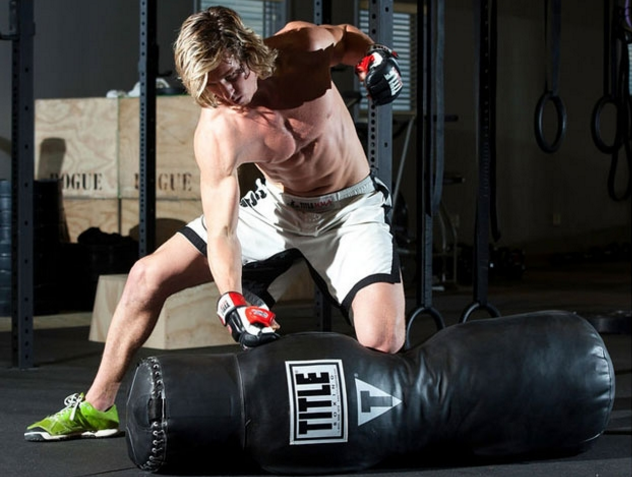 Grappling/MMA dummies are great to drill on and are even a greater tool if you do not have the time to go your gym. These dummies are great to practice drills and throws on. And they are great for conditioning if you just spend a few minutes a day throwing them around.
​
However, these dummies are not to replace your actual training partners. They are only to supplement your training as well as continue your development and progress away from your martial arts academy.
A common misconception by individuals unfamiliar with training dummies is that they are all the same. This is far from the truth. These dummies have been created with a variety of characteristics that makes them unmistakably different from one another. Furthermore, their design makes them suitable for different types of combat training, such as takedowns and striking. This review article will examine 6 training dummies catered to grappling and MMA enthusiasts. The table below provides a brief overview of each dummy but please do scroll down to read the thorough review of each grappling dummy.
| Dummy | Price | Weight | User Rating |
| --- | --- | --- | --- |
| RevGear | $$ | 70/100/130 lbs | 4.5/5 |
| Title | $$ | 100/140 lbs | 4/5 |
| Combat Sports | $$$ | 70/90/120/140 lbs | 4/5 |
| | $$$$ | 50 lbs | 4.5/5 |
| | $ | 55/77/99/121 lbs | 4.25/5 |
| Ring to Cage | $$$$ | 70/75 | 4/5 |
Training Dummy Features
Before jumping directly into the review of specific training dummies, this section will list features important for evaluating what type of training dummies fit your needs best.
Target Group
​Wrestling
Submission Grappling
Mix Martial Arts (MMA)
Intended Use
Throwing and Takedowns

Ground and Pounds

Submissions

Mobility and Positional Drills
Dimension and Size: It is important to always examine the dummy's dimensions and determine if it is the appropriate size for you and your intended use.
Weight: During your dummy selection process, do not forget to account for the dummy's dead weight. Unlike trying to pick up a teammate, the dead weight feels heavier and is harder to throw and perform takedowns. Many training dummy owners suggest that you multiply the dummy's listed weight by 2 to gauge how heavy it will feel during practice.
Durability: A product made with durable material can handle being used repeatedly and is more resistant to wear and tear.
Stitching Quality: A dummy that has high stitching quality with multiple rows of stitching and reinforcement in high stress areas is much better at taking the abuse from being thrown and slammed on the ground.
Limbs: Training dummies with limbs allow you to practice submission techniques like joint locks. In addition to that, these types of dummies could be clothed with a Jiu Jitsu or Judo uniform (gi), which is great for practicing specific gi techniques.
Training Dummy Reviews and Comments
1. Revgear Training Dummy
The Revgear training dummy, also known as the "fitness pod," has been adopted as a training tool for various martial arts and fitness gyms. Its design integrates conveniently positioned handles that are useful for MMA practice and fitness workouts. The video below shows you a quick sample of how this Revgear product could be utilized to improve your striking and throwing techniques.
Features
Height: 50 inches

Weight Options: 1) 70 lbs 2) 100 lbs 3) 130 lbs

Price Range (not including shipping cost): $110 - $180

Color Options (corresponds directly to the weight): 1) Green 2) Red 3) Blue 4) Black

Material: Triple-ply synthetic leather with nylon stitches

Handles: Handles could be used for throwing practice and as extra grips for striking.

Ideal Usage:

Ground and Pounds​
Takedowns and Throws
Stand Up Striking
Mobility and Positional Drills
Pros
Durable material

Easy to pick up and position upright with handles
Great for practicing knee strikes
Can also be used for conditioning and strength workout
Cons
Size and weight is smaller and lighter than ideal for larger practitioners
No limbs for submission practice
Seams needs better reinforcement
​Aggregate User Rating:
2. Title MMA Dummy Heavy Bag
This Title training dummy stands out from the other options because it could also be used as a heavy bag. The top of this product has three rings for hanging it onto a heavy bag stand or from the ceiling. Without handles and limbs present, this Title dummy is limited in its use for submission grappling drills. The following video consists of a professional MMA fighter demonstrating, on a similar shaped dummy, how this type of dummy can be integrated into your MMA training routine.
Features
Height: 50 inches

Weight Options: 100 and 140 lbs

Price Range (not including shipping cost): $150 - $170

Color Option: Black

Material: Triple-ply synthetic leather

Heavy Bag Usage

​Material - Nylon hanging straps utilizing a hook and loop design with D-shaped metal rings.
Pocket Design - Upon using the Title dummy for takedowns and groundwork, the metal rings can be inserted into pockets on top of the bag that were designed to firmly hold it in place.
Attachments - The metal chains and swivel for using this dummy product as a heavy bag is included.
Ideal Usage:

Mobility and Positional Drills
Pros
​2-in-1 design is easily adaptable between heavy bag and training dummy

The two weight options is plenty of weight for all practitioners

Sturdy material is thick and tough enough for regular striking use

Its translation towards sparring partner is greater due to life-like shape
Cons
No limbs for submission practice

Durability is questionable for consistent throwing activities

Metal chains included is a little long for hanging at home
​Aggregate User Rating:
3. Combat Sports Legged Grappling Dummy
Combat Sports legged grappling dummy is a versatile product designed to endure throws, takedowns and strikes. Unlike the previous two dummies, this one has limbs for practicing your submissions as well. The video below shows an demonstration on how to use this type of training dummy to improve your throwing skills.
More...
Features
Height: 5' 4" - 5' 10"

Arm Length: Approximately 17-18 inches

Weight: 70, 90, 120 and 140 lbs

Price Range (not including shipping cost): $150 - $250

Color Option: Green and Black

Material: Heavy duty nylon and military-grade vinyl

Ideal Usage:

Mobility and Positional Drills
Pros
Great weight and size options even for the bigger and stronger users

Quality product with durable exterior

Can withstand full force ground and pounds

Fantastic pricing

Good for throws and takedowns
Cons
Short and stiff arms limit submission opportunities and makes it more prone to tear

Its ability to stand upright diminishes over time

This dummy's arm position is awkward for putting on a gi
Will require patching and taping around the waist and limbs when the stitching start breaking down from throwing activities
​Aggregate User Rating:
4. Century Versys VS.2
Century has different types of training dummy with features similar to the model we will be reviewing here. They differ in shapes, sizes, weights and features, such as arms and head piece. For this review, we will be focusing on the model named Versys VS.2.
The Versys VS.2's third leg is a distinct feature that grants it the ability to stay standing. Unlike the rest of the training dummies shown in this article, the VS.2 is also designed with portability in mind. The three legs could be folded together and you could separate the body from the legs by simply unzipping the zipper at its waistline. Century's video clip below shows this training dummy as well as similar models and how they could be used to improve your martial arts ability.
Features
Height: 60 inches

Weight: 50 lbs

Price Range (not including shipping cost): $350 - $400

Color Option: Only the color option shown above is available

Material: Vinyl

Ideal Usage:

Ground and Pounds
Takedowns and Throws
Mobility and Positional Drills
Subimssion
Stand Up Striking
Pros
Easy to pick up and stand upright

Portability

Awesome for practicing leg kicks and sweeps

Good option for wrestling and judo takedowns
Cons
Height is shorter than ideal for some individuals

50 lb is a bit too light for bigger and stronger users

Arm stiffness makes it difficult for specific submission and throwing attempts
You are limited in the amount of power thrown to this dummy's body since it has a tendency to fall over if it gets hit too hard
Price
​Aggregate User Rating:
5. Celebrita MMA Grappling Dummy
Celebrita MMA's grappling dummy is created with life-like characteristics. The ability to bend its legs means you have a wide variety of wrestling and Jiu Jitsu techniques that could be drilled with this dummy. An important thing to note is that it will be delivered to you "unfilled." Therefore, you will have to open up this dummy via the zipper on its back and put in the appropriate filler material. The subsequent video shows an individual demonstrating how this dummy could be used for MMA and submission grappling training.
Features
Height: 1) 40 inches 2) 47 inches 3) 59 inches 4) 70 inches

Arm Length: 14-18 inches

Weight (corresponds to height above): 1) 55 lbs 2) 77 lbs 3) 99 lbs 4) 121 lbs

Price Range (not including shipping costs): $120 - $165

Color Options: Red, Black, and Blue

Material Options: Canvas and Artificial Leather (More expensive)

Ideal Usage:

Ground and Pounds
Mobility and Positional Drills
Submissions
Pros
Adjustable stiffness by changing the stuffing material and amount

Great for practicing chokes and leg lock submissions

Both canvas and leather options are durable

Excellent selection options

Body proportions good for gi specific techniques

Easy to clean
Cons
Does not stand upright by itself

Does not come pre-filled

Arms are slightly shorter than preferred
Even though it is good for drilling submissions, you cannot apply submission attempts with full force due to the risk of tearing the stitchings
Not designed for absorbing heavy strikes
​Aggregate User Rating:
6. Ring to Cage Grappling Dummy
This dummy is a hand constructed product consisting of a high quality material called Denier Cordura that is resistant to wear and tear. The primary purpose of this dummy is to sharpen your submission skills. Use it to drill techniques taught in class or from external sources like Jiu Jitsu books or DVDs. You can purchase this product pre-filled or unfilled. Unfilled is the cheaper route if you have household items that you think will make great filler material. The video below shows a Jiu Jitsu practitioner performing leg locks on a similar grappling dummy.
Features
Height: 6 Feet

Weight: 70 - 75lbs

Price Range (not including shipping cost): $299 unfilled and $399 filled

Color Option: Black

Material: Military Grade Nylon

Ideal Usage:

Mobility and Positional Drills
Submissions
Ground and Pounds
Pros
Great size for mimicking live training partners

Adjustable arms

Excellent build for gi and nogi submission grappling

Can be used to practice footlocks
Cons
Inability to stand upright by itself makes it difficult to practice wrestling shots

Designed only for light hits and not heavy strikes

Price
Lack of size and weight options
​Aggregate User Rating: