Whether you are a martial artist, want to do the splits, or just want to be more mobile, flexibility is important. This is especially important with leg flexibility. As a matter of fact, a scientist in Brazil developed leg flexibility exercises that could possibly predict how long you will live. Leg flexibility is extremely important because it encompasses pretty much the whole lower body, from your lower back, to your glutes, to your hamstrings.
Obviously, flexibility can be gained from regular stretching or doing yoga. However, if you want to make your life easier or want to take your stretching to the next level, try using leg stretching machines. We have reviewed 7 of the best leg stretchers available. So whether you are a martial artist or just someone that wants to be more flexible, have a gander.
We have also added a sortable table below along with a table of content for easier browsing.
Leg Stretching Machine Comparison Chart
*Ability to

Measure Progress

Valor Fitness CA-30 Leg Stretcher

Valor Fitness CA-28 Leg Stretcher

Tiger Claw Pro-Leg Stretcher
*Ability to measure progress is the feature on the device to enable you to see how many degrees apart your legs are when you are stretching.
**All the machines below will allow you to stretch to at least 180 degrees, which is a physiologically perfect seated split, like below:
But the truth of the matter is that the VAST majority of us will never be able to obtain a 180 degree seated stretch, no matter how much we work at it. In order to do that, you need to have a bit of a gift physiologically (along with practice of course). So whether a stretcher extends past 180 degrees or not should not weigh too much into your buying decision.
---
1. Tiger Claw Pro Leg Stretching Machine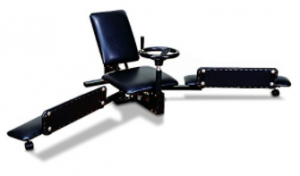 Easily one of the most expensive yet versatile leg stretching machines on the market today. This stretching machine has a steering wheel to control how far you want your stretch to go, padded vinyl to make your stretching comfortable, and back support with adjustable angles. Best of all, the Tiger Claw Pro Leg Stretching Machine comes fully assembled, except for the easy step of attaching the steering wheel to it. Therefore, there is no need to mess around with screws and nuts.
The nice thing about this machine is that you are able to take the wheel off to lean forward on your stretch.This machine has no limits to how far it goes—meaning it will go past 180 degrees (what is considered a split). However, this leg stretching machine has no gauge for its user to track the angle of their stretch over time. Some users also suggest greasing the attachment portion of the wheel to allow it to rotate more smoothly.
Pro
Adjustable back support
180 degrees range
Long leg padding
Con
Padding thickness
Leg support pad is not removeable
2. Century VersaFlex Stretching Machine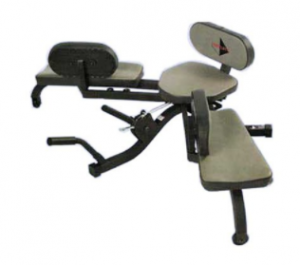 Century is a well known manufacturer of martial arts gear and training accessories. Their leg stretching machine is called the VersaFlex. Their VersaFlex does not come pre-assembled. However, they have multiple features that makes their machine unique. One great feature offered by the VersaFlex is an angle gauge for the user to monitor their flexibility level over time. Their thigh pad is removable and can be placed in three different positions. This pad can also rotate in its place, which is great for adjusting your leg to a comfortable position. Another attribute that is helpful for increasing the ability to stretch are handle bars that can be placed on the side of the leg placement.
The VersaFlex uses a ratchet and cable system with a lever to increase the angle of stretch. This design forces the user to stretch at specific increments that is not as small as the ones with a steering wheel. There is a small release lever that allows the user to bring their legs back to the starting position. To do so, activate the release lever by pulling on it and the main lever back as you move the leg sections together with your legs. The VersaFlex back support does not have much of a surface area to lean on and you cannot adjust its angle.
Pro
Side leg support components are adjustable
Stretch angle gauge
Product from a reputable company with timely customer service
Con
Does not come pre-assembled
Lack back support
3. Century VersaFlex 2.0 Stretching Machine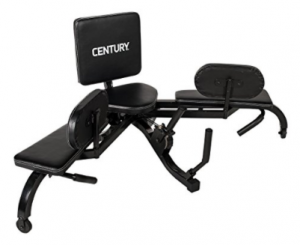 This VersaFlex 2.0 stretching machine from Century has a solid metal frame for long lasting durability. Century increased the size of the back support in their 2.0 version. Like the original VersaFlex, this model uses a ratcheting mechanism and cable system to spread the user's legs apart. The leg side padding can also still be positioned at three different locations to accommodate and makes it easier to adjust between users. Another great feature of the 2.0 model is the handlebar present up front and on each sides of the stretching machine to facilitate the stretching experience.
The padding cushion between this model and the previous one is the same, which means that the VersaFlex 2.0 is not as pleasant to sit on as some of the other brands on this list. Tall users suggest that the length of the leg support for the VersaFlex 2.0 could be longer. Assembly is also required with the VersaFlex 2.0. A consensus among its owner is that the provided instruction manual is not very clear, therefore users may find it frustrating to assemble the VersaFlex 2.0 together.
Pro
Stretch angle gauge
Great Price
Handlebars for facilitating leg stretches
Con
Thin padding throughout
Assembly required
4. Valor Fitness CA-27 Leg Stretch Machine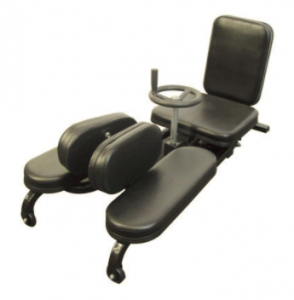 Valor Fitness CA-27 leg stretch machine is selected as Amazon Choice item. This product requires minimal assembly and greasing of specific components. A grease packet comes with the package. When ready to use it, simply stick the turning wheel in its proper place and position the side pads in one of two available slots. An impressive design component is how the CA-27 can go beyond 180 degrees. Plus, it spreads the user's legs at small increments.
The turning wheel is designed so that the user can turn it with one or two hands. The padding for the seat and leg rest is not thick, but its cushion is plenty comfortable for the the range of time used. The back support portion of the CA-27 can be laid flat. The steering wheel and the side leg pads are removal. These features make it easy for taking the CA-27 apart and storing it away.
A downside of the CA-27 is its quality of construction and lack of sturdiness relative to the other options listed. The steering wheel wobbles as it gets turned. The CA-27 also has no stretch gauge so the user has to account for the number of wheel turns as a measuring method. Overall, the CA-27 is a well-priced leg stretching machine that does its job.
Adjustable back support
Great price
Removal components
Con
No method for measuring degree progress
5. ProFlex Stretch Machine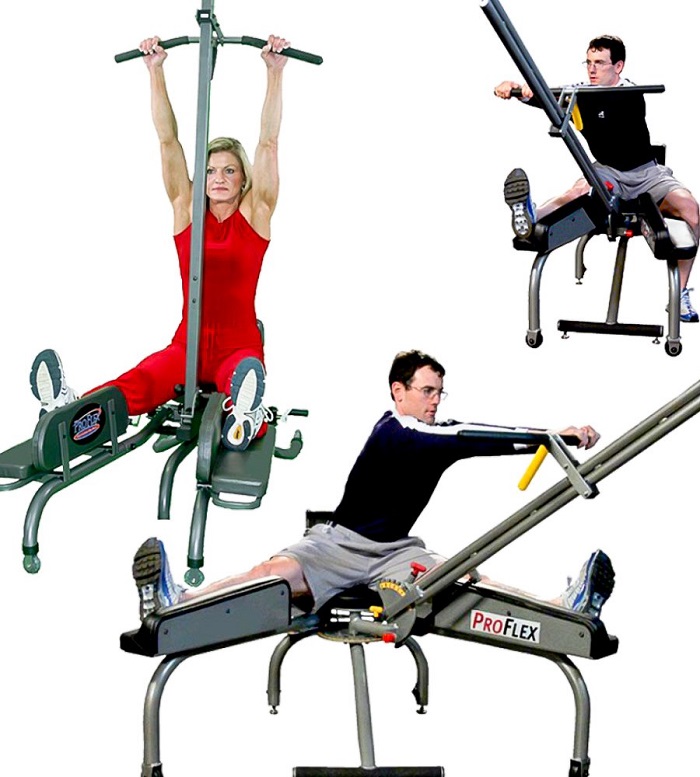 Now if you are looking for something that looks more like a torture machine than a leg stretcher, the ProFlex Stretch Machine is it. This machine combines a leg stretcher with a back and shoulder stretcher for a comprehensive all-in-one stretch. The manufacturer even guarantees that you will experience a 30 to 50 percent increase in total body flexibility, with regular use. Like some of the more recent leg stretchers, this machine also allows you to measure your progress in terms of degrees.
This is not a light item as it weighs 96 pounds (43.5 kg) and does take a bit of time to put together because of the multiple components involved. However, if you want a total body stretch, the ProFlex Stretch Machine is your friend.
Pro
Ability to stretch entire body
Comes with ability to measure progress in degrees
Extremely sturdy
6. Valor Fitness CA-28 Leg Stretch Machine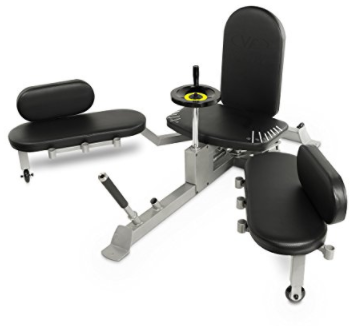 Another great leg stretching machine from Valor Fitness is the CA-28. Its frame is sturdier and more durable than the CA-27. The CA-28 has the same concept, but with an improved finish for better visual appearance. Even though the CA-28 does not have a stretch gauge like the CA-27, it does have markings on the seat to indicate the angle of stretch.
The CA-28 has adjustable back support for changing the angles of the stretch. It also has 3 slots on each side of the leg support. This is great for being able to adapt the side leg padding and the handlebar for stretching assistance to be best suited for each user. These attributes is designed to be used in a gym environment, so this equipment should be able to withstand the daily home use. Its high density foam padding is ideal for long term durability. However, the downside of the padding's density and thickness is its comfort level.
Pro
Heavy duty steel frame
Stretch indicator on seat
Adjustable back support
Multiple adjustment position for side leg padding and stretch handlebar
Con
Price
Lack of cushion for seating and leg support
7. Valor Fitness CA-30 Leg Stretch Machine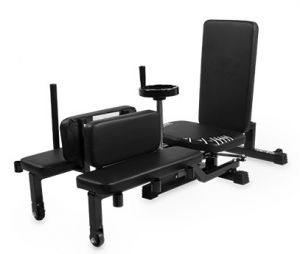 Extremely flexible athletes should look into buying the CA-30 leg stretch machine from Valor Fitness. This option allows users to stretch up to an impressive 200 degrees. The CA-30 can also have its two leg sections positioned right next to each other, which makes it easier to get on and off the machine. Upon close inspection, the steering wheel of the CA-30 has grooves for easily gripping onto and turning it. Similar to the CA-28, this model has the stretch indicator marked on its seat as well. The stretch bar that comes with the CA-30 is extra long, which is great for different gripping and stretching adjustments. A great benefit the CA-30 has over the CA-27 model is that its has wheels located on the base support in the back, which has the benefit of making it easier to move the CA-30 once the user has completed their stretching routine.
The only negative aspect of the CA-30 design is that its side padding sits in only one position. However, Valor Fitness accounted for this by providing a side padding that is extra long. Its back support is designed to be tall and narrow. This feature has the same benefit as the Stretch4All machine, which is to provide a great back support that also allows its user to perform arm stretches while stretching their legs at the same time.
Pro
Impressive structure
Unique steering wheel design
Allows for stretch up to 200 degrees 
So there you have it. We have rounded up 7 of the best leg stretching machines on the market right now. Of course increasing leg (and lower body) flexibility doesn't have to involve a leg stretcher. However, it does make life a lot easier and makes you a lot more consistent knowing that you don't need a partner to push the limit of your stretches.
If you are looking for some more reviews of the best martial arts products out there, go to our reviews section.