The last decade saw the exponential growth of MMA. The sport went from a fringe hobby to a mainstay in sports culture. The organization that led the way was UFC, with its deep pockets and long list of talented fighters. The last decade was filled with thrilling fights and heart-stopping action. So to rank the top knockouts from the last decade (2010 to 2019) was hard. However, it has been done. These are the top 5 UFC knockouts from 2010 to 2019. Enjoy!
5. Conor McGregor Finishes Jose Aldo in 13 Seconds at UFC 194
Two worlds collide as two of the most precise strikers in the featherweight division faced off, the results of UFC 194: McGregor vs Aldo proved not to disappoint. With the Championship belt and two perfect UFC records on the line, it took McGregor 13 seconds to show the world why he was king.
You could feel the tension of both fighters as soon as the stare down happened and their refusal to touch gloves.   The mental warfare of Mcgregor unleashed upon him over a span of months prior was showing to pay off.  The first few seconds of the round started with both feeling each other out and testing their range with the exchange of light, precise blows, nothing too damaging. Then on the tenth second of the round, Jose Aldo Lunges in for a combo that McGregor read all too quickly. Countering with one left straight, Jose Aldo Hits the canvas and McGregor seals the deal with one Final hammer fist before Big John McCarthy Pulls him off and stops the fight.
"Precision beats power and timing beats speed. And that's what you saw there," Mcgregor exclaims during his post-fight interview.
4. Allistar Overheem 60th MMA fight Against Francis Ngganou
A clash of personalities as the fast-talking and confident K-1 Grand Prix Champion Alistair Overeem goes against the timid and soft-spoken Francis Ngganou. Coming off a win against Mark Hunt and Fabricio Werdum, Allistar came into the match looking to secure his third victory of the year before getting hit by a wild Uppercut over a minute into the first round.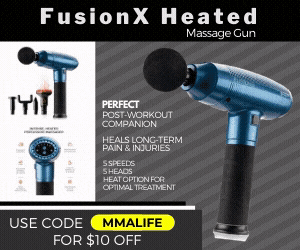 3. Anderson Silva's Front Kick Knockout Against Vitor Belfort at UFC 126
If Anderson Silva is known for one thing, it's his ability to produce flashy finishes. And at UFC 126, he showed just that. Though Hailing from a Brazilian Jiu-Jitsu Background, Belfort decides to keep the fight standing and becomes the aggressor during most of the fight while Anderson takes his time dodging and parrying each blow effortlessly. After a flurry of punches thrown by Belfort does not connect a little over the fourth minute of the very first round, Anderson retaliates with one swift front kick to the chin ending the match with a KO victory and another win under his belt.
2. Edson Barboza's Versus Terry Etim
On the evening of January 14, 2012, Edson Barboza scores an amazing knockout over Terry Etim and lands the first-ever spinning wheel kick finish in UFC History. Barboza, who controlled most of the fight, showed his experience with his superior stand-up game and stumped the advances Etim tried to make by using his power but fast leg kicks. Barboza looked like he was en route to a decision victory when he throws a fast and accurate spinning wheel kick in the third round, hitting Terry Etim square in the chin and driving him down straight to the mats in brutal fashion.
1. Jorge Masvidal Flying Knee Versus Ben Askren
Trash talking and losing are two things that that don't mix. And at UFC 239, Ben Askren had to learn that the hard, and against the cold-blooded striker Jorge Masvidal, who is known to not take shit from anyone.
As soon as the match started, Masvidal didn't think twice as he rushed in with a flying knee at Askren who is known to enter fights with blast double leg takedowns.  The timing was perfect as Masvidals knee hits Askren right on the chin sending him down on the canvas unconscious before delivering two finishing blows and teaching him a lesson in absolute humility.