No one in boxing has made a statement quite like Vasiliy "The Matrix" Lomachenko has before. He is arguably the best boxer of this generation. With just 15 professional bouts under his belt, he has proven to be one of the most talented fighters in recent memory.
When he finishes his career, Vasiliy may just be the best boxer of all time. To make the argument that he is the best boxer ever, we're going to break down The Matrix's game. Everything from his mastery of footwork, precise punches, and mental training.
Table of Contents
The Matrix's Footwork
Loma's footwork is some of the best there has ever been in the sport. He started boxing when he was just four years old, but at age 9 he really started practicing his footwork. The funny thing is he didn't even learn from boxing.
Vasiliy's father, Anatoly, knew his son had something special in him when it came to boxing. Anatoly had an unorthodox approach to helping his son work on his boxing footwork. Dance.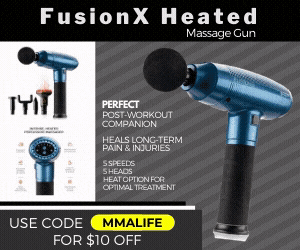 At age 9, Loma was taken out of boxing training and put into Ukrainian folk dancing classes. For four years, Vasiliy did nothing but Ukrainian folk dancing classes. This strengthened his feet, gave him a new level of balance, and dramatically changed his boxing game.
This type of unorthodox training paid off in dividends. Loma can move in the ring like no one has seen before. When he moves in the ring it almost appears like he is floating while his opponents are stuck in the mud.
He can just glide out of harm's way taking angles with ease always being just out of reach of opponents. Without those four years of Ukrainian dance, Loma's style would not be what it is today.
Ring Awareness
When you see Lomachenko move in the ring it looks like he is playing chess against his opponent. He is always a few steps ahead of them outthinking them and implementing his game plan to perfection.
His ring awareness is second to none. He is almost always in control of the fight and always knows where he is in the ring. Wherever he is in the ring is exactly where he wants to be to implement his gameplan.
Loma is always guiding his opponent to where he wants them. He keeps them on their heels leaving them off balance and open to attacks.
Defense Of The Matrix
What makes the defense of The Matrix Lomachenko so special is that he's a master of multiple defense styles. He can either press his opponents with a tight, almost impenetrable guard or be untouchable with his superior footwork and head movement.
Tight High Guard
When he uses a classic tight high boxing guard, Loma is doing two things. The first is that he is pressing them and cutting off their combinations as Vasiliy loves to disrupt his opponent's combos and movement.
Doing this style of defense disrupts his opponents and opens up his second objective, to set up his counterpunch. By moving in and cutting off the opponent's angles this leaves them open to counter punching. Lomachenko is an expert at doing this.
Ranged Defense
The other style of defense he uses is a ranged defense where his famous footwork really comes into play. He uses a mix of slips, feints, and angles to move around his opponent with ease.
At times he looks similar to a matador in the ring. Throwing a barbing jab to get the opponent and oles around like he is dodging a charging bull. He will touch their arm with his jab hand to guide himself around to get the angle for a counter punch.
Other times, Lomachenko just won't let his opponents near him unless he lets them. Their punches seem to either come up short or Loma's impeccable head movement keeps him out of danger. His defense is quite a puzzle no one has come close to figuring out.
Precision Punching/Counter Punching/Barrages
The offense of Lomachenko is another special thing to witness. He can implement a variety of different punching styles using his speed to always leave his confused and off-balance.
One method he loves is using a barbing jab to slice through his opponent guards. Loma does this to affect their vision and force them to raise their guards.
When they raise their guard this opens them up to his vicious body shots. The Matrix has finished many of his fights nasty body shots.
Combos that Vasiliy throws are always precise and on target. Once he is able the punching range he can throw barrages of fast and powerful punches at will.
After every combo he throws, Loma can take a step out of harm's way and counter. This counter is the start of the next barrage of punches.
When he wants to, Vasiliy can step on the gas and do this at will. When he starts, Loma won't stop until the opponent goes down or the round ends. His pace of punches can be relentless.
Mental Toughness
One thing that doesn't not get talked about enough is Lomachenko's mental toughness. It is one of the best in all of sports.
In training, his team that includes his father have implemented unique methods to test Vasiliy mentally. On top of his grueling physical training regiment, they add mental training to the end of his sessions.
When Lomachenko is physically spent, he is forced to do math equations and word games. This is done to mimic how he will feel at the end of a 10 or 12 round fight. During this time when he feels physically depleted his mind will be able to get him through the fight.
Along with word games and math problems, he is also forced to do other types of mental training. Anything from holding his breath underwater for four minutes or hitting numbers on a padded wall. This type of mental training keeps Lomachenko prepared for whenever a fight gets tough.
What He Needs To Do To Be Considered The Best Ever?
It is debatable that he is the greatest boxer ever, but without question Loma is one of the best amateurs fighters ever. In the 396 amateur boxing matches, he only tasted defeat once. A defeat he avenged twice.
Vasiliy one every major title at amateur and is widely regarded as one of the best amateur boxers ever.
Lomachenko is considered by many boxing experts the best pound for pound boxer in the world. With just 15 professional fights, he has done what no other boxer has done.
In just his second professional fight, he fought for a world title. Vasiliy lost this match in a controversial decision many felt he was cheated. His opponent Orlando Saldido threw over 40 illegal punches below the belt on Loma and was never penalized once.
But in his third professional fight, he won a world title and has looked unstoppable ever since. At times it even looked like Lomachenko was toying with his opponents to the point where he made tough seasoned fighters look like amateurs.
Many already consider Lomachenko one of the best. But what does he have to do to cement his legacy as the best ever?
Quite simply, The Matrix needs to fight more high ranked opponents, but that has been a problem. He is the most feared fighter in boxing right now and many top-ranked fighters do not want to face him.
The good news for Loma is that time is on his side. At 32 years old, he is still in the prime of his fighting career.
He'll get a chance in his next match to further cement his legacy in his next fight. Loma faces a young, tough, and undefeated Honduran fighter named Teofimo Lopez. It'll be the highest-profile fight in his young, but phenomenal career that will no doubt be a great fight.
Another high profile win will help make the case for Vasiliy Lomachenko being the best of all time.