Few at-home gym setups offer the compact design and wide range of exercise options as a functional trainer. The machine lets you do full-range, full-body workouts, as well as isolation and true isolateral-based movements. That makes a functional trainer ideal if you need an all-in-one approach when setting up your home gym. But there are dozens of options on the market.
The XMark Functional Trainer, which retails for approximately $3,000, is one of the most expensive functional trainers available.
If you're wondering whether the Xmark Functional Trainer is worth its high price, read our in-depth analysis first. We'll break down everything you need to know in this XMark Functional Trainer review:
Quick snapshot: The pros and cons of the XMark Functional Trainer (and who it's best for)
Technical specifications, measurements and weight
Weight stacks and weight ratio (and why it matters)
Included attachments and options
Frame construction, durability and assembly
Exercise options that work with the XMark Functional Trainer
What we love
What to watch out for
Our final thoughts: Should you buy the XMark Functional Trainer?
Let's dive in!
In a Snapshot: The Pros and Cons of the XMark Functional Trainer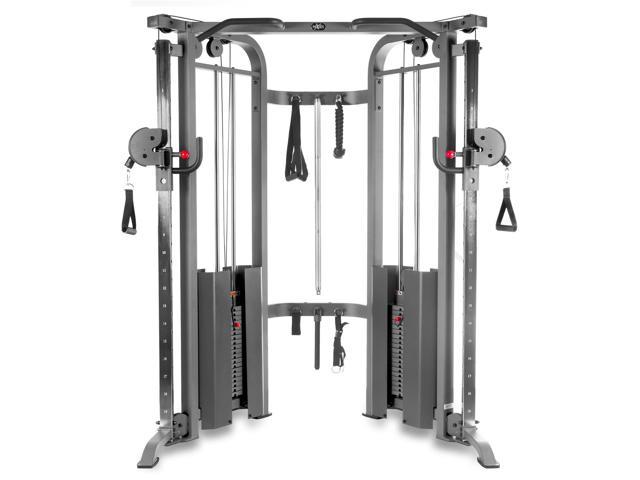 The XMark cable machine is worth it if one of your top priorities is having a compact, space-saving design that works for both large and small rooms. It offers just enough versatility and customizable adjustments to fit most people's workout needs, without the massive footprint often seen in other functional trainers.
We'll break down the full measurements and array of options further down in our XMark review, but here's what you need to know at a glance.
XMark Cable Machine Pros
A few standout features and benefits of the XMark Functional Trainer include:
Shipping directly from within the U.S., so you're not waiting for an extended overseas shipping time.
Unique V-shape lets you slide the XMark cable machine into a corner to save you extra floor space.
Very stable, durable construction with premium touches like its powder coat finish (this adds extra durability and a more high-end feel).
Dual weight stacks ringing in at 200 pounds each, which is much more weight than many other models on the market.
Exceptional adjustability, such as providing 19 different height settings.
XMark Cable Machine Cons
The XMark Functional Trainer isn't perfect, but neither is any functional trainer. Depending on your personal needs, you may find the following as potential drawbacks:
Relatively heavy compared to other functional trainers, which affects shipping costs (and may also be a concern if you need to truck it up a few flights of stairs when you get it home).
While its construction is sturdy, putting it together is complex.
Recent customers have noted it took them a few days of assembly time to build the machine (its complicated diagram-based assembly instructions don't help, either).
Weight stacks are not upgradable, so you're stuck with the 200-lb capacity in each weight stack forever.
Space-saving design also means some people find it too narrow to workout in, especially if you're someone with a broader frame.
Some customers complain that the pulley carriages don't glide easily (thankfully, the manufacturer includes an extra bottle of cable grease/lubricant).
Technical Specifications: Size Measurements, Shipping Weight and More
Grab some measuring tape and make sure the XMark Functional Trainer fits in the room where you plan to put it:
Diameter: 43 1/2 inches
Width: 65 inches
Height: 84 inches
Shipping Weight: Approximately 827 pounds
Yes, you read that right: The total weight of this machine is nearly half a ton. Have a crew of friends ready to help you unpack it on the day your shipment arrives.
Weight Stacks and Adjustable Pulleys
The Xmark's Weight Stacks are Top Notch
Lower-end or more budget-friendly functional trainers typically offer just one weight stack or use a plate system where you load and unload iron plates or bumper plates during your workout.
The premium XMark Functional Trainer immediately stands out in this crowd.
Not only does it offer you two weight stacks, but each stack maxes out at 200 pounds.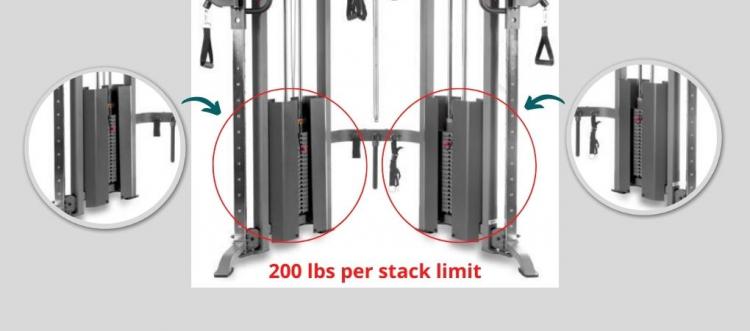 ​
That is key because the pulley/cable system reduces some of the resistance during the initial lifting/pulling of your exercise, and a higher weight capacity means this machine can grow with you as you get stronger and build your endurance.
You'll also note that:
The weight stacks move up and down on two guide bars, for smoother and easier movement (budget models often use just one guide bar, which makes the weights more wobbly and unbalanced).
The 1-inch-thick weight plates go up in 10-pound increments, giving you a lot of flexibility as you progress through your lifts.
The weights are made of cast iron, which is far more durable than steel, cement and other commonly used materials.
As a bonus, the 400 pounds of weights — plus the frame's actual weight — gives the XMark Functional Trainer an exceptional level of stability. We'll talk more about its stability, durability and mainframe construction later in this review.
The Xmark's Pulleys Offer Superior Adjustments and Range
A functional trainer's value all comes down to how adjustable it is and how easy it is to customize it to your workout needs and your own body.
The XMark cable machine offers 16 pulleys:
You can choose from 19 different heights for the pulleys, with the highest height at approximately 78 inches and the lowest height at roughly an inch off the floor.
Each height setting is spaced apart by 3 1/2 inches for full range and maximum effects (nothing is worse than trying to do a specific exercise at an angle or height that's not optimal).
Pulleys swivel from side to side, and up and down, ensuring you aren't locked into any unnatural movements during your workout.
The pulleys adjust quickly — simply pull the pin, slide the pulley up or down, and let the pin snap back into place — and have molded rubber grips for safety and comfort.
The cables attached to each pulley extend by 81 inches, which is far more than many other functional trainers and lets you do exercises like overhead tricep extensions.
XMark coats its cables in polyvinyl chloride (PVC), which doesn't just enhance their durability, but also ensures they move smoothly through the pulley.
Included Attachments and Options
Like most functional trainers, the model from XMark provides a built-in pull-up bar. It's important to note that the pull-up bar attached to the XMark cable machine's top is a split-style bar with angled handles. This small touch gives you extra variety and customization when doing any form of chin-up or pull-up.
But that's not the only attachment option. In fact, the XMark Functional Trainer includes several attachments and extra options right out of the box:
Two hand straps (8 inches long)
Two long-strap handles (17 inches long)
One tricep rope (23 inches long)
One short bar
One long bar (42 inches long)
One leg extension curl strap
One ankle strap
A workout poster (24 inches by 36 inches) with 35 tutorial photos and exercise directions
More budget-friendly functional trainers often require you to buy these add-ons for an extra cost, but you won't want to skip out on them. They're all important if you're going to hit every muscle group with a variety of movements. For example, the long bar is critical if you want to do barbell-like exercises (e.g., a squat or bicep curls), while the tricep rope paired with the XMark's long cables lets you do movements like a kneeling crunch.
Frame Construction and Assembly
According to XMark, its cable machine is best for home use and light commercial use. And home users take note: XMark backs its functional trainer machine with a lifetime in-home warranty, which gives you a hint about its durability and construction quality.
Frame Construction and Overall Durability
The mainframe of the XMark Functional Trainer is made of 2-inch by 3-inch commercial-grade steel. This makes it resistant to dents and scratches, and the 11-gauge steel is also very resistant to rust.
To further increase the frame's durability, most of it also has a baked powder coat finish. However, a few machine elements, such as the weight stack guide bars, are chrome.
As we noted above, the 400-pounds of weights from the dual weight stacks give the overall frame a lot of stability. Unlike smaller functional trainers or those that are made with cheaper material, the XMark machine won't wobble or sway, even if you're doing a momentum-heavy movement like kipping pull-ups.
A weak point in many functional trainers is the pulleys and cables. These go through an excessive amount of wear and tear during every workout, and it is critical that they're durable and able to withstand anything your workout throws at them.
The XMark Functional Trainer was built with those concerns in mind:
XMark constructs each pulley from heavy-duty nylon.
Inside the pulleys are sealed ball bearings for long-lasting smooth gliding.
The cables are made from steel ropes that are purported "aircraft-quality," with PVC coating for adding strength and durability.
Finally, skid-resistant feet add one more element of stability when you're exercising.
Assembly
There are hundreds of components in XMark's box when the functional trainer arrives.
From dozens of bolts and washers, to numerous cables and pins (the cable assembly can be incredibly frustrating), assembly is one of the most common drawbacks cited by recent customers. The XMark Functional Trainer is not overly complicated to build, but it's no trivial task either, and the numerous small diagrams in the assembly instructions don't make matters any easier.
For the best results:
Set aside at least a full day for assembling your new functional trainer.
Sort out all the pieces ahead of time.
Don't rush it: A misplaced washer or a poorly wrapped cable can cost you hours of tinkering down the road (to say nothing of potential safety problems).
Work with a partner who can help hold a piece in place while you tighten a bolt, or hand you a washer while you're piecing together a pulley.
Reach out to XMark's customer service for help.
XMark Functional Trainer Machine Exercises
You can expect to do any of your standard muscle-stabilizing exercises with the XMark Functional Trainer, such as the cable chest fly and the standard row. Other popular XMark Functional Trainer Machine exercises include:
Chest press (various forms, including standing decline and standing incline)
Crossovers, such as cable crossovers and rear deltoid crossovers
Chin-ups and pull-ups, including all grip variations
Rotation movements, such as internal rotations, external rotations, and core rotation declines/inclines
Don't forget the additional options provided with the included attachments that come with the Xmark machine (more info about the attachments further below in this Xmark Functional Trainer review). For example, the leg extension strap lets you do movements like donkey kicks or hamstring curls, and the ankle straps are ideal for hip abductions and extensions.
XMark Functional Trainer Review: What We Love
Beyond everything explained above, a few unique elements help the already notable XMark cable machine stand above the crowd even further. And it's these little touches that help justify the machine's premium price tag.
First, its wedge footprint is beneficial for tight spaces. Rather than sitting your functional trainer in the middle of your basement, you can slide its V-shape into a corner for maximum space-saving.
That space-conscious approach also manifests in its built-in storage. XMark has designed the dual weight stacks to connect to the back of the frame in such a way that the space between the dual weight stacks serves as hanging storage for all of your grips, handles and other attachments. It keeps your home gym looking organized while also ensuring your equipment is within reach when you're in the middle of your workout.
XMark Functional Trainer Review: What to Watch Out For
Make sure you measure your room before buying the XMark Functional Trainer or else you'll be stuck with some significant buyer's remorse. While its tall height means you have an exceptional level of height settings for your pulleys, it's a bit of a catch-22: With a total height of nearly eight feet, older rooms with a lower ceiling of 7 feet or less won't be able to host the XMark cable machine.
If you plan to do pull-ups on the functional trainer, you'll also want additional vertical clearance.
The dual weight stacks are also a bit of a give-and-take. They go above and beyond most other functional trainers, and they give the overall frame a lot of stability, but that also means the overall machine is very, very heavy.
You'll want a lot of help when moving and assembling the machine. And depending on your home's construction, you may want to invest in rubber mats or similar floor protection to keep the functional trainer from damaging material like hardwood floors.
Speaking of the weight stacks, we also don't love being forced to stick with 10-pound increments. Some other functional trainers let you upgrade or downgrade your plates, or come with a few 2.5- or 5-pound weight plates (helpful when you're warming up or trying to eke out one last rep). The XMark model doesn't allow for that, unfortunately.
Finally, while it comes with many attachments, there's one glaring exception: A bench. XMark has thought of seemingly everything else, which makes the absence of a bench that much more unusual.
Final Thoughts: Is the Xmark Functional Trainer Worth It?
The Final Word
The XMark Functional Trainer justifies its high price tag and is definitely worth it if you want a premium gym experience from the comfort of your own home.
While other functional trainers may compete with it in some aspects, such as durability, its compact design, and exceptional adjustments/customizations give you the flexibility and workout range that is nearly untouchable.
XMark Functional Trainer Cable Machine
Pros
Shipping directly from within the U.S., so you're not waiting for an extended overseas shipping time.
Unique V-shape
Very stable, durable construction with premium touches like its powder coat finish (this adds extra durability and a more high-end feel).
Dual weight stacks ringing in at 200 pounds each
Exceptional adjustability
Cons
Relatively heavy compared to other functional trainers
sturdy
Recent customers have noted it took them a few days of assembly time to build the machine
Weight stacks are not upgradable
Some customers complain that the pulley carriages don't glide easily