Throughout MMA history, strikers of all levels have entered the cage of this popular combat sport. Fighters continue to evolve over time and only the best have reached the highest levels of MMA. The content within this article count downs the top 10 fighters with the best boxing skills in MMA history. As a note, two former champion boxers named James Toney and Ray Mercer stepped into the cage to try out MMA. We are not counting these individuals in our list for obvious reasons.
10. Jose Aldo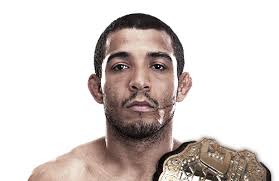 Jose Aldo is one of MMA's all time pound-for-pound great. His reign as UFC featherweight champion  was impressive. Although Aldo has a dynamic all-around striking game, he demonstrated his legit boxing skills against Frankie Edgar during their UFC 200 bout. Edgar is a former champion with great boxing skills of his own and has excellent takedown skills. For this fight, Aldo rarely used his famous leg kicks in order to decrease the chance of him being exposed to Edgar's takedown attempts. It is quite remarkable for him to beat Edgar so handedly without relying on his kicks. Aldo's has fast and accurate punches that can snap his opponent's head back. He can mix his punches up well and can strike while moving backward. His explosive movement can also cover a large amount of ground and he puts a lot of power behind each punch. However, these last two traits is quite taxing on his cardio "gas tank," which his has been criticized in the past. Lately, Aldo seems to have trouble with taller and lanky guys that can strike. Of course, Conor McGregor's and Max Holloway's striking skills are no joke. It will be interesting to see how Aldo will come back after his latest loss to Max.
9. Nick and Nate Diaz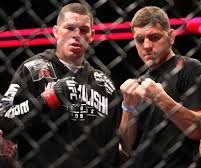 In this scenario, I am grouping the two infamous brothers from Stockton together for this ranking. The reason for this is because their styles and executions in the ring mirror each other so much. Both brothers have trained with a world champion boxer named Andre Ward. Furthermore, they also are known for their "Stockton Slap" where they will literally smack their opponents across the face with an open hand. Examining their punching technique, you will see it is not pretty looking. Their striking technique would not be recommended or taught normally in most boxing gym, yet they are so successful and accurate with it. The Diaz brothers are fearless and will trash talk anybody they come across. They can throw non-stop barrage of punches that peppers and overwhelms their opponents. Additionally, the Diaz brothers do put an emphasis on working the body more so than many MMA fighters. The reason why the Diaz brothers are not highly ranked on this list is due to them also having many flaws in their boxing games. They have poor footwork and rarely move their head off the centerline when throwing punches. In addition to that, the Diaz brothers have a plodding style movement and have trouble cutting off the cage properly. Despite these holes in their game, they have decimated many MMA fighters that wanted to strike with them.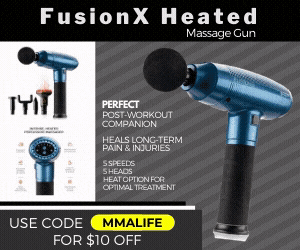 8. TJ Dillashaw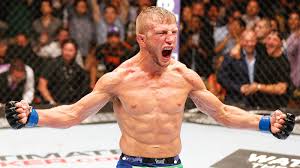 TJ Dillashaw is a well-rounded fighter that blends his punches and kicks together to create a formidable offensive game. Even though he fully utilize a kickboxing striking style, his hands can be deadly by themselves. He made a name for himself when he was able to beat Renan Barao for the UFC bantamweight title and then defended it later on. Dillashaw has fast hands and can throw various combinations with "fluid movements." Dillashaw has shown fantastic boxing tactics inside the UFC Octagon. An example of this is how he would duck under his opponent's punches and then come back up to throw a hook where he drives his full weight in the direction of the punch to maximize the power delivered (thanks Full Contact Way for the article). Dillashaw also likes to change level to freeze his opponents and then pop up to deliver a powerful rear hand while his opponent is vulnerable. It was cool to see him spar with Vasyl Lomachenko, who is an excellent professional boxer that is currently among boxing's top ten pound for pound ranking. If Dillashaw can continue this relationship and be a sparring partner for Vasyl in the future or vice versa, it will make his matchup with Cody Garbrandt that much more exciting.
7. Georges St. Pierre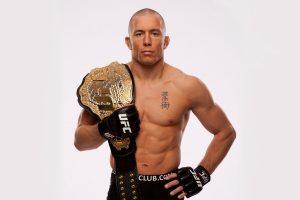 Casual fans may not truly appreciate GSP's technical abilities and how he can control whether the fight occurs on the ground or standing up, but GSP does have an active offensive game. GSP just so happens to choose to fight smart and avoid getting into brawls because there is always a "puncher's chance" of getting knocked out, as you can see in his first fight with Matt Serra. GSP may not have the boxing background as some of the other fighters, but his boxing skills is a large part of what makes him great in standup. The development of GSP's boxing abilities came under the tutelage of the famous Freddie Roach at his Wild Card Boxing Club. GSP is a master of distance management and has one of the best jabs in MMA history. GSP does not simply throw light jabs or only use it as a measuring tool. He will mix up his punches in clever ways. GSP will throw body jabs, punch after changing levels, and even incorporate techniques like the superman punch. Furthermore, he has the ability to throw stiff jabs that stops his opponents dead in their tracks and snaps their head backwards. He single handedly beat Josh Koscheck and neutralized him with repeated jabs to the face.  In their fight, Koscheck right eye swelled up and began to shut. This occurrence only made it easier for GSP to pick him apart. Additionally, Koscheck ended up suffering a broken orbital bone via GSP's hands.
6. Sergei Kharitonov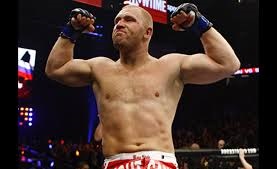 Sergei Kharitonov has quite a boxing pedigree that has been evident inside the MMA cage. His boxing skills were good enough for him to be a medalist in multiple boxing tournaments that had qualifying implications for the Olympics. Despite these success in boxing, Sergei chose MMA as his career path. Sergei is a fearsome fighter that has fought and beat some of the biggest names like Fabricio Werdum, Alistair Overeem, Andrei Arlovski. Furthermore, most of his wins occurred within the first round. Watching his fights, you will see that Sergei is a patient fighter that likes to stalk his prey. He does not rush and try to put himself out of position. When Sergei chooses to, he has great head movement by slipping outside of his opponent's jabs. Another great example of how he will actively move his head was in his fight against Pedro Rizzo. During a particular sequence of that fight, Sergei gave Pedro a bodyshot, moves his head out of the way of Pedro's incoming uppercut and came back immediately with a stiff jab. While not being a particularly explosive or quick athlete, Sergei has the power to knock out any fellow heavyweights. In addition to that, his boxing skills was shown to be superior to the kickboxing abilities of Overeem, Arlovski and Rizzo. In his fights, Sergei will incorporate a lot of straight punches, striking combinations that goes from body to head and he will also double up punches on the same side.
5. Quinton "Rampage" Jackson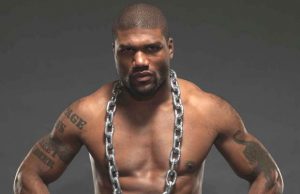 Quinton Jackson, also commonly referred to as Rampage, is a dangerous fighter that has went toe to toe with many of the best fighters to grace MMA history. Without watching a full fight, especially his days in the Pride FC organization, you will miss his technical boxing skills. One thing Rampage does that is not commonly seen by other fighters is how he maintains his defensive guard. As soon as Rampage sees any tells from the opponent's punching motion, he automatically starts raising his arm up on that side. This action allows him to absorb punches with his arm, which is great when is unable to move his head out of the way in time or if he wants to stay in the pocket and return fire himself. A great fight that exemplifies Rampage's boxing skills is the one where he is matched up against Chuck Liddell in Pride FC. During this fight, Rampage frequently clinched to avoid being punched while out of position. If Rampage was not close enough to clinch without putting himself in danger and senses a flurry of punches coming, he will actively use his high defensive guard instead of turtling up with both arms. Rampage will then return his arms immediately back to position. Another great boxing sequence Rampage pulled off in this bout was when he successfully ducked under Chuck's hooks and followed up with a overhand right or a powerful hook that caught Chuck off guard. Rampage went on to beat Chuck Liddell twice in his career.
4. Alexander Gustafsson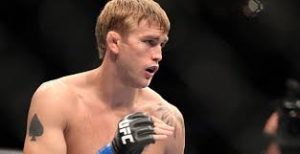 Before beginning his MMA career, Alexander Gustafsson found success in the amateur boxing circuit. He has kept his boxing ability sharp and it has shown. After his loss to Phil Davis, Alexander took the time to train with Phil and further developed his own grappling skills and takedown defense. Since then, he has obtained a series of back to back win before running into Jon Jones. Alexander is a long and lanky fighter that is also one of the tallest in his division. He is able to  utilize this attribute to its fullest, which gives him an upper hand in combat. Unlike another fellow European named Stefan Struve, Alexander is good at keeping his opponent at the end of his punching range while staying away from theirs. Even though Alexander does not have a single punch knockout power like Anthony Johnson, he makes it up with technical striking and combinations. Similar to GSP, Alexander incorporates a lot of jabs to the body as well as clean 1-2 punch combinations. It surprised many people how well he fought against Jon Jones. Plus, who can forget about the combinations he threw at Glover Teixeira in their latest matchup and how he was able to land an uppercut anytime he wanted to.  
3. Anderson Silva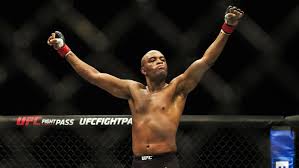 Although Anderson Silva is well versed in all aspects of striking, the combination of his head movement and the accuracy of his punches results in him having skills desirable for boxing. Currently, there is a lot of interest being drummed up for a fight between Conor McGregor and Floyd Mayweather. However, new fans of MMA may not be aware that talks of an MMA fighter testing the waters of a professional boxing bout occurred first with Anderson. At one point in time, Anderson was dominating his opponents and there were talks of him doing a boxing match with Roy Jones Jr. In his prime, Anderson was great at rolling with the punches to minimize its impact as well as effortlessly moving his head out of harm's way. Anderson may not punch the hardest, but the precision in his punches granted him the ability to knock down fighters by clipping them right on the "button." He has done this exact thing against James Irvin, Forrest Griffin, and Yushin Okami. It is unfortunate that the fans never got to see a super fight between Anderson Silva and George St. Pierre. Despite all the rumors and pleading by the fans, this matchup never came to fruition.
2. Conor McGregor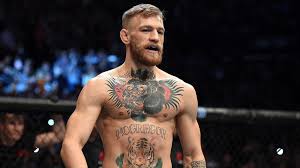 Despite coming from a small MMA community in Ireland, Conor McGregor has become an international superstar and the UFC's lightweight and featherweight champion. He has demonstrated his phenomenal talent against top names like Jose Aldo, Eddie Alvarez and Nate Diaz. Conor has a versatile striking skillset where he is willing to switch stance and blend in sneaky kicks with his wonderful punches. Of course, he is most effective in his southpaw stance where he can snap out that famous rear left hand that has dropped each of the previously mentioned fighters who are all known to be durable. Conor's wars with Nate Diaz has helped fine tuned his boxing skills and enhanced his ability to string together punches. His boxing expertise also allows Conor to deliver powerful and precise punches without needing to wind it up. If he ever senses his opponent beginning to wither, it is game over for them because a series of vicious combo will be unleashed.
1. Max Holloway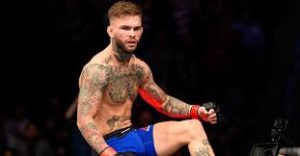 Last year, Max Holloway wasn't even on this list but he has not proven to be most dominant boxer in the game today with his recent (and dominant) win over Brian Ortega that resulted in a doctor stoppage. In that match, Max Prior to the win over Ortega, Max threw an ungodly