How much noise a massage gun makes is an important consideration when you are thinking about which one to buy. The first generation of these awesome devices were known to be exceptionally loud, getting up to almost 90 decibels. However with each iteration, they were able to tune down the noise while delivering better massage. This is in part due to the advancement of motor technology within these guns, primarily brushless motors.
While most massage guns have the noise decibel rating on the packaging, if you do not have a reference point in which to compare the it to, you still really don't know how quiet or loud something is. That is where the chart below comes into play. In the image below, you see the average noise decibels of some common noises you hear in everyday life. Then after the image, we you see the chart comparing the noise decibels of the top massage guns on the market.
Massage Gun Ranked By Noise Decibels And Minimum and Maximum Speed
The noise decibels of a massage gun is directly correlated with its operating speed. It will be more noisy if you operate it at gun's higher speed setting and less noisy if you operate at the gun's lower speed. So in this chart, we will be ranking the massage guns according to lowest noise decibel, highest noise decibel, lowest speed, and highest speed. The speed is ranked by RPM, or revolutions per minute.
Note that noise exposure via massage gun is not long-term as you are using it for only minutes per day.  Keep this in mind when comparing noise from a massage gun to the chart above.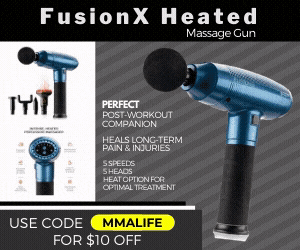 The chart below is sortable so you can view it by whichever aspects are most important to you in a massage gun.
| | | | | |
| --- | --- | --- | --- | --- |
| TimTam Power Massager Pro | | | | |
| | | | | |
| | | | | |
| | | | | |
| | | | | |
| | | | | |
| | | | | |
| | | | | |
So what is the verdict for the quietest massage gun on the market? It is the TimTam PowerMassager Pro! At 10 decibels at its lowest setting and 20 decibels at its highest setting, it beats out its contemporaries by at least 30 decibels. That means the TimTam is as quiet as hearing rustling leaves. However, it does not compromise function for low noise; the gun comes with a heated tip, adjustable arm, metal tips, 30 mm stroke length (longest on the market), interchangeable massage heads, preset massage programs, and a top speed of 2,800 RPM. 
Please note that these are the noise decibels that are stated by the brand. If you want to somehow verify that the numbers are correct, you can get a noise decibel meter.