When it comes to massage guns, three names come to mind: Theragun, Hyperice, and TimTam. These three have been the leaders in the niche and have taken the lion's share of the market by being the first to market, striking endorsement deals, and putting out quality products. 
I've previously reviewed Theragun's 3rd generation massagers (here, and here). Today, I will be reviewing the TimTam Power Massager Pro and let you know if it is really worth the money.
Features
The TimTam Power Massager Pro has the following features, which I will discuss more in detail below.
175 degree articulating arm

4 pre-programmed settings

Heated tip

Vibration-only mode

1 external battery (60 minutes usage)

4 different international adapters 

3 detachable massage attachments

2.2 pounds (1 kg)

900 to 2800 strokes per minute (RPM)

Advertised as only 10 decibels on its lowest setting

30 mm stroke length

30-day return policy

Can pay in installments
If you buy the massager on their site, you can choose to bundle it with a bunch of other things for no extra cost (right now). If you get the bundle, you also get:
3 extral detachable metal massage heads

Heated vibrating massage ball (Polish Light)

Pulse Massager
Articulating Arm
The articulating arm is a nice addition and is similar to what the Theragun G3Pro offers. It allows you to massage anywhere on the body with ease. While I found the articulating arm on the G3Pro to be unnecessary, I find the articulating arm on the Power Massager Pro to be a nice addition. This is because the massage handle for the G3Pro allows you to massage the back without having to adjust the angle of the arm.  But with the TimTam, the handle design doesn't allow to change your grip on the massage gun as easily. Although TimTam does advertise 3 grip positions, the only grip that is really sturdy and comfortable is position 1, seen below.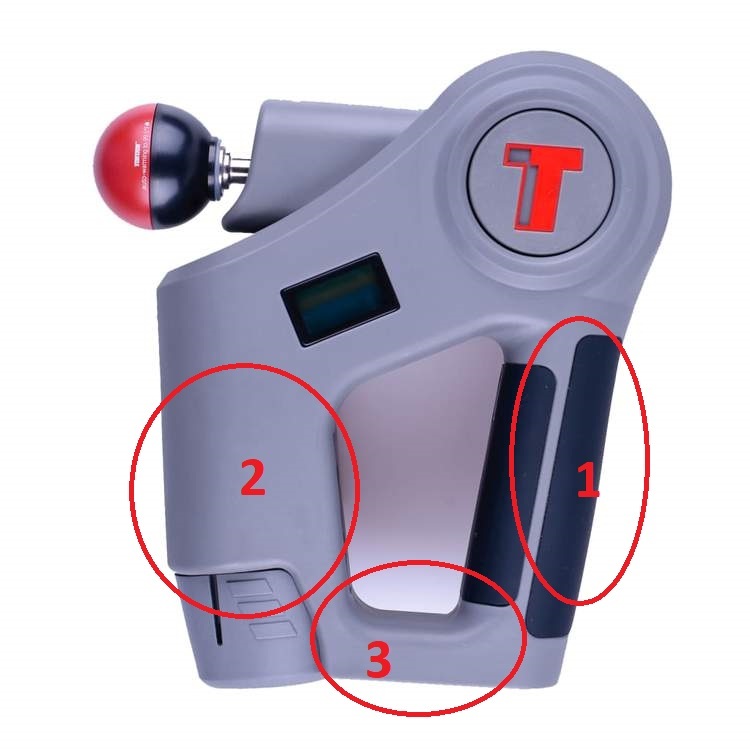 Power Massager Pro grip positions
So that is why the articulating arm is an absolute necessity for this massager to be 100% self use. The arm is articulating, up to 175 degrees. That means you can adjusts the arm so that the massage head goes all the way to the other side.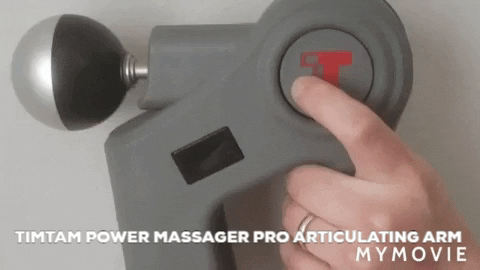 TimTam Power Massager Pro articulating arm
Power, Speed, Noise
The gun has three pre-programmed speeds, going from 1,000 RPM , 2,000 RPM, and 2,800 RPM. However, TimTam advertises that the speed can go as low as 900 RPM in Warm-up mode. The 2,800 RPM is on the higher end of the spectrum for massage guns on the market. Most massage guns top out at around 2,500 RPM. However, there are some guns that do go over 3,000 RPM. But I don't really feel the difference in massage intensity once it goes over 2,500.
In terms of power, this gun is definitely more powerful than regular massage guns that are under $200. This is aided by speeds ranging from 1,000 to 2,800 RPM, dense massage heads, a 30 mm stroke length, and a powerful brushless motor. Because of the gun's various settings and features, this gun would serve almost anyone well, irregardless of the pain tolerance. I found that at 1,000 RPM, it barely felt like a massage. It kind of felt like someone just lightly tapping on me. However, as I increase the speed to 2,000 and 2,800 RPM, it becomes a really good and intense massage.
I do feel that the Theragun G3 and G3Pro are slightly more powerful just from my personal usage. I judged the power of the massage by massaging the area where I got shoulder surgery. With the Theragun, I can only massage that area for a minute or so on the high speed setting before it gets painful. But with the TimTam, I find that I am able to massage that area a little longer. But out of all the massage guns I've tried, TimTam definitely ranks right behind Theragun in terms of power. 
Although the Theragun massagers are a bit more powerful, the TimTam provides a smoother massage. This probably is in large part due to the fact that the stroke length is 30 millimeters, by far the longest on the market. By comparison, Theragun G3 and G3Pro has a stroke length of 16 millimeters. The threaded rod also does a good job of providing stability and support for the massage head. TimTam is the only company I know of that has a threaded rod to hold onto the massage head.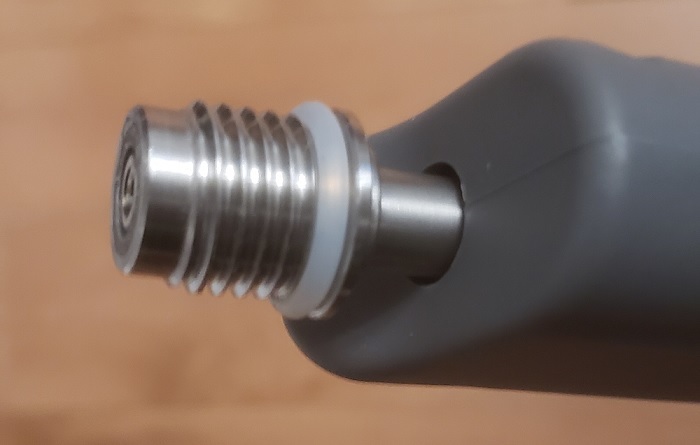 Power Massager Pro uses a threaded rod to hold onto the massage head for greater stability
The company advertises that the TimTam operates at a noise level of 10 decibels at its lowest setting. To give you a sense of how quiet 10 decibels is, here is a good illustration showing noise decibel levels and what it compares to.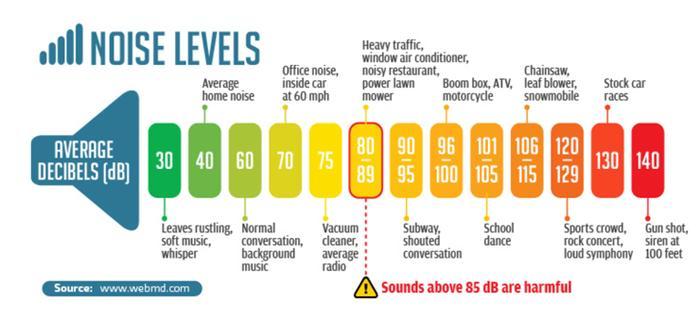 So if 30 decibels is equivalent to hearing a whisper, then 10 decibels is barely audible. So I decided to measure myself.
I measured and the only time it gets close to 10 decibels is when I put the gun in "vibration-only" mode. When you actually use the device for a massage, I found that the noise levels ranged anywhere from 40 to 60 decibels. Those noise levels still make the Power Massager Pro one of the quietest massage guns on the market. Although the massage isn't as quiet as 10 decibels, it is still pretty quiet when compared to most of the other massagers on the market with the same amount of power. To compare, Theragun's guns clocks in at 68 and 72 decibels. 
Pre-programmed settings and Heated Massage
This device has two things I have never seen on a gun: a heated massage ball and pre-programmed settings. 
One of the detachable massage head is specifically designed for a heated massage. You attach the head onto the massager and activate the heat setting. And within two minutes, the ball will heat up to 99.5 degrees Fahrenheit (37.5 Celsius). It really does feel nice on the neck and shoulders after a workout. I would have liked it to go up another one or two degrees Fahrenheit but I do think 99.5 will be sufficient for a fair amount of people. There is also a temperature sensor on the gun to gauge what your muscle's temperature is prior and during the massage. They recommend using the heat setting for pre and post workout sessions, and to allow your muscles to get up to at least 90 degrees.
Another thing I really like about this gun is that it has 4 pre-programmed massage modes that automatically do the work for you. The four treatment modes are:
Warm-up
Recovery
Neck
Lumbar
Once you select one of those modes, the massage will automatically adjust the massage to the chosen goal.
Customer Service and Purchasing Options
I've always advocated for buying more expensive items from reputable brands with responsive customer service. And that's exactly what TimTam is. They have a website, legitimate sponsorship, and responsive customer service. I was able to get answers to my questions within the day when e-mailing them, even after I've purchased.
Like many other companies, they offer a 30-day return policy. For more information on their return policy, go to this page.
And one other thing that I do like about TimTam is that they offer installment payments. Because the price point a little on the hefty end, they give you an option to split the payments up into 4 bi-weekly installments without checking your credit. For those that are not sure if they will like the Power Massager Pro, the installment plan might be a good option. So you can try out the massager for 1/4 of the price so your cash isn't locked up in a purchase that you are not quite sure you want to keep.
Things I Don't Like About The Power Massager Pro
1) Although the device is pretty quiet when compared to other massagers, I was expecting it to be much quieter because it was advertised as 10 decibels on the website. I found that a bit misleading. Again, the only time it clocks in anywhere close to 10 decibels is when it is on "vibration-only" mode.
2) With other massagers, reading the manual was not needed. However, with the Power Massager Pro, I had to read the manual a few times to really get a grasp of how to operate the massager at full capacity. This is expected though because the gun has a lot of features packed into it, many that you can't find in other guns. Remember, the gun has 4 pre-set massage modes, a heated massage setting, an articulating arm, a "vibration-only" mode, and three different speeds. 
3) ​​​​My last complaint about the TimTam is the power/speed button. It is in an awkward position. It is right inside the handle. When I was initially getting used to the massager, I found that I was accidentally pressing the button quite a bit just because it was also where I was gripping. After awhile, I was able to get used to it and adjusted my grip accordingly. Still, it is a bit annoying at first. For the next iteration, they should move that button so that it is not in area as the rubber grip.
Final Verdict
While the TimTam Power Massager Pro is not intuitive and does cost quite a bit of money, it makes up for it in its features. Along with being a quality and durable product, it has the most features out of any massager I have tried. And when you add that to the fact that you can get the extra pulse massager, heated massage ball, and 3 extra metal massage heads, I think the Power Massager Pro with the bundle is well worth the money for the recovery enthusiast. But if you are just looking for a bare bone massager without the bells and whistles, there are cheaper options out there.
TimTam Power Massager Pro (With Bundle)