Three months ago, every MMA fan looked forward to UFC Vegas 17. It was the date rising star Khamzat Chimaev was scheduled to test himself against a top challenger in Leon Edwards.
But then the Russian fighter withdrew from the fight for personal reasons and the bout was abandoned. As a result, the UFC tapped 5th-ranked Stephen Thompson to face off with 11th-ranked Geoff Neal.
Who wins in Las Vegas this Saturday? Is it the more experienced but aging point-fighter Stephen "Wonderboy" Thompson? Or the new kid on the blog Geoff "Handz of Steel" Neal?
UFC Career Overview
Both Wonderboy and Handz of Steel are coming to UFC Vegas on hot winning records. Thompson is on a 15-4-1 record while his opponent has a 13-2 record. Neal is on a UFC 6-0 winning streak and has won all his matches since 2016.
On the flip side, Thompson comes off after a solid victory in which he won the fight of the night in November last year. He's an A-list striker with a 58-0 kickboxing background and a brown belt in Brazilian Jiu-Jitsu.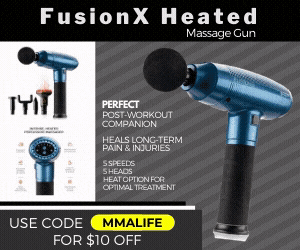 Against that backdrop, UFC 17 will be a battle of experience versus form.  Thompson, 37 years, boasts of a 44% career striking accuracy. In his last fight, the South Carolina native landed 138 strikes at 45% accuracy, meaning he's still got it.
On the other hand, 30-year-old Neal has a slightly higher striking accuracy record of 49%. He's also won more bouts by knockout than his challenger, finishing off his opponents 62% of the time against Thompson's 47% KO record.
The Odds And Where to Bet
Bookies have made it clear—they're favoring form over experience. In other words, Neal is the favorite at odds -125 while Thompson gets even odds (+100). To expound more, you win $100 if you bet $125 on Neal and make $100 if you back Thompson with a $100 bet for the win.
As for where to bet, Europeans have various options as the regulations are more laxed there. Americans can go to Betway to find sites to bet. Canadians can bet too as a number of growing online sportsbooks are catering to fans in the Great White North. Here are some that are recommended by bestbettingsites.com.
Each site will vary on their odds, though. As such, select your ideal UFC betting site carefully. Compare the odds of several bookies and wager on the site that give you the best returns for your investment. Also, look for free bets and bonuses—you could end up placing your bet without risking your money.
Fighting Styles
Both Thompson and Neal are strikers but they are of different pedigrees. The 37-year-old is sort of a striking specialist with great distance management thanks to his Kempo karate and kickboxing background. The Texas native Neal is more of an orthodox striker with massive knockout power.
On average, Thompson strikes 3.93 times and attempts 0.36 takedowns per minute. As we mentioned, the South Carolina-born fighter has a 44% striking accuracy on strikes and 45% accuracy on takedowns.
Thanks to his laudable present form, Neal boasts of the better striking record. He strikes 6.04 times per minute with a near 50% accuracy. On the flip side, he takes 0.85 takedowns every minute, succeeding 50% of the time.
With that in mind, Thompson has a slight edge in takedowns, having submitted two opponents. He also features the better record for decision wins—he's won seven fights by decision.
Recent Opponents
Thompson might have an inconsistent record in the past five years. But official records don't tell the whole story about him. Let's start with his loss against Darren Till in May 2018. Judges scored the match unanimously in favour of Till.
 However, 22 out of 25 media personalities scored the fight in favour of Thompson. The same thing had happened in his rematch with Tyron Woodley. Judges gave Tyron the win but lots of surveys and media experts scored the bout in Thompson's favour.
In light of that information, Thompson's recent losses don't entirely prove he's on the decline. The controversies surrounding his losses show he still puts a fight when given the choice. Interestingly, Neal hasn't had a chance to prove his prowess against a top striker recently.
Sure, he defeated Mike Perry last December through a TKO. But many of his opponents have been lowly ranked athletes. And as a result, he dominated and knocked many of them out within the first three rounds.
UFC Vegas 17 Other Main Card Fights
Before Thompson faces off with Neal, there will be five bouts in the Main Card. Below are previews of these fights.
Aldo vs. Vera
 Jose Aldo will have his day with Marlon Vera in the Bantamweight division. Vera prides in a 10-5 UFC record and has only lost once in seven bouts.
His opponent, Aldo, is more experienced at 34 years old but he's lost the last three fights. That said, that doesn't mean he will be a walkover for the Ecuadorian. He put great fights despite his losses, which is why bookies are favouring him at odds -145 against +125 for Vera.
Pereira vs. Williams
Another Main Card bout in Saturday's UFC night is a Welterweight match between Michel Pereira and Khaos Williams. Sportsbooks have Pereira as the favourite at odds -125. Williams in contrast carries odds +105.
Moraes vs. Font
Back in the Bantamweight division, Marlon Moraes faces off with Rob Font. Moraes is a regular fighter in the UFC but he's coming off a KO loss in the hands of Cory Sandhagen. His opponent, by comparison, hasn't stepped into the octagon in over a year. Still, to be clear, the odds are in favour of Moraes.
Hardy vs. Tybura
In the heavyweight division, Greg Hardy will welcome a tough opponent in Marcin Tybura. Both fighters hit hard but Hardy has the edge according to major betting websites. He's tipped to defeat Tybura at odds -120 while his opponent has odds of +100.
Pettis vs. Morono
All eyes will be on Anthony Pettis when he fights Alex Morono in the Welterweight division. He's got the better record, 23-10-0 against 18-6-0 and beat Donald Cerrone last May. What's more, Morono has been inconsistent lately, which is probably bookies they're tipping Pettis to win at odds -230 against Alex's +190 odds.